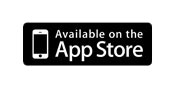 Christmas Experience
An iPhone Christmas themed multi-game entertainment app where you build a snowman, play hangman, solve a puzzle, tilt your device for holiday sounds, and schedule background sounds. Supports both English and Spanish.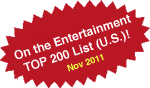 Featured in the Fox News Video Podcast "Tapped-In" in
their Nov 16 2009 Holiday App Guide episode.
Reached the iTunes U.S. Entertainment Top 200 list in November 2011.
On the iTunes U.S. Entertainment Top 200 list in November 2010.
Reached the iTunes U.S., U.K., Canada, Spain and Mexico
Entertainment Top 100 lists in November 2009.
Features:
Upbeat holiday background music to put you in the Christmas mood - 3 songs.
Create your own virtual Snowman by moving 30 unique pieces onto the Snowman. Tap a piece and then use pinch and rotate gestures to change the size and orientation of a piece. Shake to erase and shake again to unerase. You might see Santa fly across your screen as it snows!
Schedule up to 8 holiday sounds to be played in the background during a 24 hour period when the app is not running or even if your device is asleep.
Tap the camera icon and send an email of your snowman creation directly from within the program or save to your photo album.
Send the days until Christmas to Facebook.
Save, load, replace and delete up to 9 different Snowmen with all the pieces so you can work on different versions at different times by pressing the up arrow icon.
You can choose which Snowman pieces appear from the "Choose Snowman Pieces" screen. Optionally select "Auto Hide Buttons" to have the Snowman screen's buttons and countdown to Christmas fade out of the way in a few seconds. Bring them back with a tap where they used to be.
Play a Christmas-themed game of hangman with over 100 holiday words displayed at random. Guess the correct word before all the Christmas light bulbs break! Reset the word list back to the beginning at any time.
Have fun moving Christmas presents with a winter puzzle game of the Tower of Hanoi with 10 levels including the display of the number of moves and the time elapsed.
Tilt your device in one of eight directions to produce a different Holiday sound depending on the angle of your device.
See the number of days count down until your favorite holiday - Christmas.
Customize your settings by separately turning on/off various sounds and functionality.
This program supports both English and Spanish language settings including the words in the hangman game.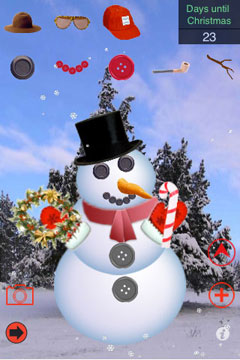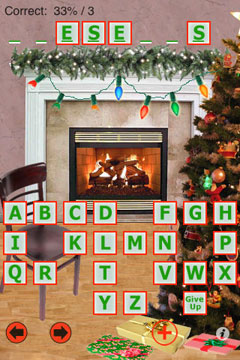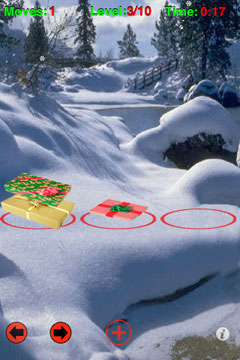 Testimonials from the iTunes App store:
"Well worth the money...It is my favorite Christmas app!" - Kinkz Salon
"Can't believe how cool this is!" - Balingg
"Really fun and entertaining with all the different games." - Dr Cheese
"i love it my kids use it all the time" - ShaDillon
"Really cool game..." - Djfnhbsjfbksbg
"Love it. Had the Halloween version. Also good." - Farfignewton
"I love this app. I am bilingual and love being able to switch from English to Spanish." - Baja Gal
"Easy to use. Perfect for the season." - justcallmebuff
"Love this app. Kids enjoy it a lot as well!" - AnaO10607
"Awesome game...this is the best Christmas game ever..." - Windsor Rocks
---
See a demo in action of V1.0 (V2.2 adds more features):