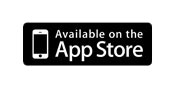 Easy UP/down Timers

(Updated Oct 2017)
Enjoy the flexibility of having 25 simultaneous counters and timers with both a scrolling view of multiple timers and a single view of any one timer.

Comes complete with tilt and shake control,
timer linking, timer synchronization,
and customized pictures and text.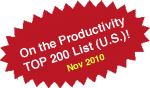 Benefits:
These easy to use and highly configurable timers can count up or down (with audible alarms and visual alerts) and are great for use in the kitchen to keep track of individual food items cooking, when doing your exercise or gym routine, giving a business presentation or speech (including BNI presentations), logging time spent on projects for a client, washing/drying, playing a game, taking prescription medicine, recording driving time in your car, sports, hobbies, lab experiments, and much more.
Private pilots use it for fuel and flight time in their airplane. Hockey players use it for game and penalty times. The timers are used for boat and car races. The possibilities are endless because of the program's many options and flexibility.
Features:
Each of the 25 timers can count up or down and contains status indicators (up, down, active, alert, linked), a customized title, and a custom picture to identify each timer from your photo album or the iPhone's camera. Always see a running count of the number of active up and down timers. Timers that count up can start from any entered value.
Local notification popup alerts even when the app is not active on devices that support multitasking. Options to disable audible alerts and/or visual text alerts.
When you need to count down time for tasks you do often, just set up a unique timer for your task and keep reusing it without having to enter the time again - one advantage of having so many flexible timers.
Tilt and shake your device to be able to Start/Stop/Reset and increment/decrement time in the single timer view or display all the timers at once in a scrolling list view instead. In single timer view, see the current clock time as well as the expected time the countdown timer will reach zero.
For countdown timers, choose from 25 alert sounds when time reaches zero or use your device's microphone to record a custom alarm sound (The device does not support custom sounds in popup alerts). See the individual timer's display flash in one of four colors and optionally add the ability for the entire screen to flash (silent alarm) or vibration on the iPhone. Each individual UP/down timer is independently configurable.
Link one timer to another so that after it counts down to zero, it triggers another timer to either start counting up or also counting down. You can chain them together. For example, when cooking you could have a timer count down to alert you to turn over meat on a grill and then automatically alert you again later when it should be time to remove it, all with one button press (or shake) to start.
Set up synchronized timers so that when you start/stop a "leader" timer, all "follower" timers will start/stop together. Enable/Disable a synchronized timer at any time or set a timer to be disabled after it is triggered so that it only goes off once.
Email the current value and status of every timer.
Each timer has Start/Stop and Reset/Clear buttons for easy control that are context sensitive. Use a numeric keypad to enter the countdown time. Always see a count as to how many timers are running. Reorder the positions of the timers.
Choose from one of ten different background image themes for your timers (brushed metal, wood, tile, blue texture, red texture, pink stripes, black metal, halloween, christmas, and wet).
Program settings include the ability to Stop/Reset/Clear all timers, start all 'up' timers, key clicks on/off, alarm volume, enable tilt control, tilt sensitivity, shake sensitivity, replacing one timer with a clock, auto stop up timers (exclusive mode), show timer as decimal hours (normally hours : minutes : seconds), preventing the device from ever sleeping, preventing sleep only when actively counting down, popup background text alerts or audible alerts, disable reset/clear buttons, and help documentation.
Timer sets - save multiple timer configurations and switch to them as needed.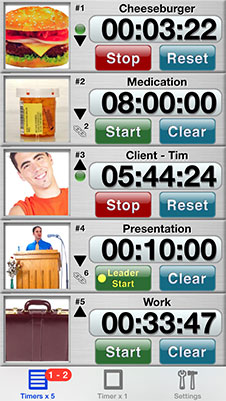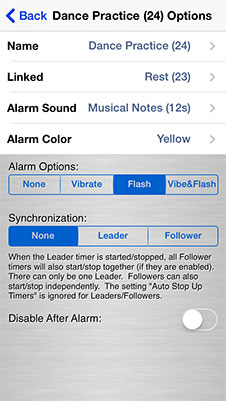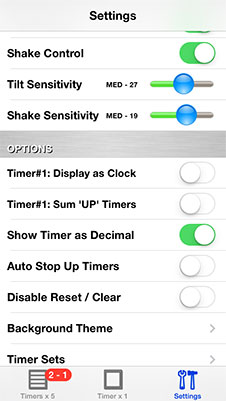 Testimonials from the iTunes App store:
"Simple; easy to see the status of multiple timers at a glance. Fun timer ring tones, too!" - Boater Chick
"If you are a chef buy this app. Worth every penny!!!!!!!!!!&quot - CHEFFMICHAEL
"Great app. Love the multiple timers and it's functionality.&quot - JackPot
"Best app I could find for lacrosse" - brinomax
"This is now the perfect timer! Even with the device off, it will wake it from sleep & show you a popup &/or a notification sound!" - WildHog
"Multiple timers, good timer sound options. Excellent app!!" - Sue in Denver
"25 different timers. Many different combos. You can have ones leading and following a central one. Amazing." - Nihal maa
"This is a great timer - I use it every day and love it." - Praisewhistler
"This is a great timer! I am using it as a timer for a quick service restaurant and it work great!" - Shamu124
"The best timer out there! Multiple timers with easy to use interfaces and a long list of options make this the perfect tool for workouts, swimming laps or perfecting your time on the racecourse. Love it!" - foimassa
"Easy UP/down Timers is now the most versatile timer in the App store!" - Hockeyref57
"This application does everything I need with a display a lot easier to see than my wrist watch." - almansor
"I enjoy using this app as I can save different timers and customized them." - Ayercuts
"Great app - especially useful when cooking different meal items." - lctteacher
"I have really enjoyed this timer on my iPhone." - loudpedal
"Great timer app - Pilots check this out...It is a heck of alot cheaper than any other aviation timer like ASA or Sportys. You can set up as many timers as you need and start and stop them independent of each other. " - wvflyer
"Outstanding...Beats all other timers hands down 25 timers all you'd ever need. " - Onepocketron
"Excellent...I use this everyday." - BobCassidy
"Beyond expectations...They continually add more features and surprise and delight me" - fmarckini
---