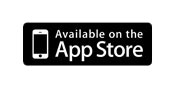 Holiday Countdown LITE w/Recurring Calendar Events (FREE)
A calendar of 5 U.S. Holidays (29 in the FULL version) combined with your own schedule of 10 recurring events and tasks (300 in the FULL version). Holiday descriptions, custom notes, import birthdays, split-screen view, change background. Receive background alert notifications. Select colors, icons, recurring options, expiration time, and more.
Features:
See the DATES, DAY OF THE WEEK, ICON, and NUMBER OF DAYS for the next 5 UPCOMING U.S. HOLIDAYS in a scrolling list above a background picture of Kauai.
Receive a background notification alert each day that an event is due. Select the time of day for your daily alerts, alert sound, and more. Receive an alert for just today's events that are due or today's and tomorrow's without the app active.
View the DESCRIPTION, HISTORY, IMAGES and FUTURE DATES of each holiday in a scrolling split-screen details view.
Use PINCH GESTURES to change the size of the text and pictures in the details view.
Add, edit, and delete up to 10 CUSTOM EVENTS AND TASKS (300 in the FULL version).
Custom events can be set as RECURRING weekly, every 2 weeks, 3 weeks, 4 weeks, monthly, yearly or by day of the month ("Third thursday of the month", etc).
Create your own NOTES for each custom event or task displayed in an animated pop-up details window.
Show how many days since an event in the past by changing EXPIRATION OPTIONS: Normal, after 1 day, 3 days, 1 week, 2 weeks, manually (How long it remains on the main screen after the due date).
IMPORT BIRTHDAYS and their corresponding NOTES from your ADDRESS BOOK.
For each custom event / task select from 74 UNIQUE ICONS, 16 COLORS, TITLE, NOTE, DATE and RECURRING STATUS.
Change the BACKGROUND IMAGE (Retina display support) to one from your photo album, saved photos or iPhone camera.
Select one of FOUR FONTS for display, change the VISUAL TRANSPARENCY (to see more or less of the background image), and enable/disable SOUNDS or the display of ICONS.
DATE ENTRY view shows the day of the week and number of days in real-time.
Selectively ENABLE / DISABLE the display of individual holidays or custom events.
The display format of the dates will change depending on the device's international region format settings.
Choose your DEFAULT ICON and DEFAULT COLOR to be used to represent new custom events.
iOS7 and iPhone 5 support.
FREE, ad supported app.
ADDITIONAL DETAILS:
Customized events / tasks are great for tracking a repeating event such as a birthday, anniversary, or meeting as well as an appointment, wedding, vacation, dinner, sporting event, doctor's visit, graduation, party and more.
Use the program as a task manager for "to do" tasks such as going to the store, making a phone call, or doing an errand. Phone numbers entered in the event notes can be clicked on to dial on the iPhone.
The closest holiday or custom event is always displayed first in a scrolling sorted list. By default when the date of a custom event has passed, it will display "expired" on the selection screens and will no longer display on the main screen.
When importing birthdays from your contacts, choose to import only new entries or also update previously imported birthdays. If the birthday has a note, it will be imported as well.
Increase the size of pictures or text in the pop-up details window using pinch gestures.
To have 29 Holidays, 300 custom events, import/export, and no ads, check out the full version:
Holiday Countdown w/Recurring Calendar Events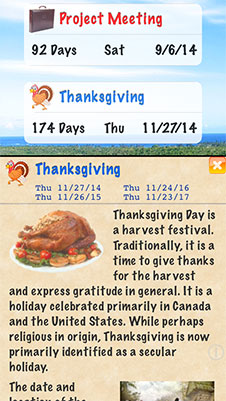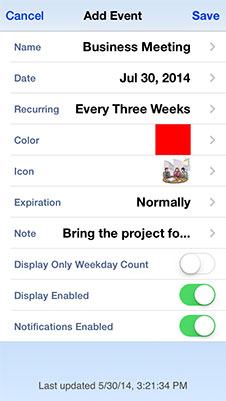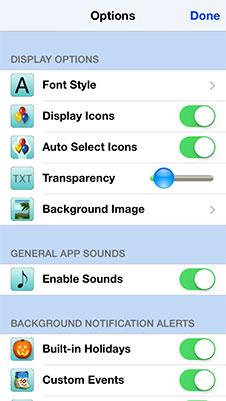 Testimonials from the iTunes App store:
"Great app. Makes it easy for planning!" - La tiger
"Simple to use! Love all the great icons." - Kels03
"I like how you can make the event recurring, add cute little icons, add a description, and most holidays are already there so you don't need to manually put them in. Great app overall!" - Unsatisfied girl and Sis
"It's a great app it alerts me when a holiday or special event is coming up!!!" - Phat_Back
"This is a really good app." - MikeS1&only
"Awesome app for the person with a lot going on. Favorite thing and best feature is multiple manual countdowns on one page..awesome!" - Multitaskermomandwife
"Best countdown app that exists!" - Y67t77
"Easy to use app" - Sarah8908
"Good countdown. Does the job. Best one on here." - Julie ran