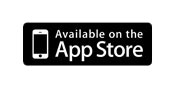 Halloween Countdown Pro Push

See the number of days countdown until Halloween via Push Notifications on the App's icon badge as well as within the program, listen to haunting music, and change background pictures.

Now with
Apple Watch

App and Complications!

Previously featured by Apple in the App Store's What's Hot section.
Features:
The number of days until Halloween is displayed on the icon's badge and is updated every morning without having to start the app (Push Notifications).
Apple Watch app that displays the days and graphical indicator. Choose watch face complications.
See the number of days countdown until Halloween.
Select one of 9 included haunting background musical soundtracks.
Repeat the same song or play all songs automatically in sequence.
Pick music from your own music library. The title and album art of the playing song are displayed.
Update your Facebook Status with the days to Halloween.
Tap the countdown text to cycle between 8 different colors.
8 animated characters to choose: Skull, pumpkin, ghost, zombie, and cat's eyes, frankenstein, witch, and a pirate.
See the animated character grow to full size and then shrink back down based on the number of days left until Halloween. The closer the date gets to Halloween, the bigger the character will grow. The character will then move off the screen in different patterns.
Select any background image from your device's photo album or use one of the 3 included haunted images.
Shake your device or tap the animated object to see a special effect.
See the date and day of the week of Halloween for this year and the next 4 years.
Enable/Disable/Hide the animation.
Enable/Disable device sleep.
Halloween fans -
Check out our multi-game/sound Halloween iPhone App Halloween Experience.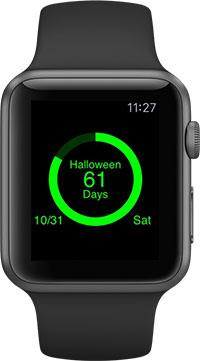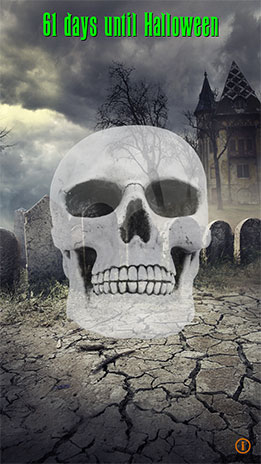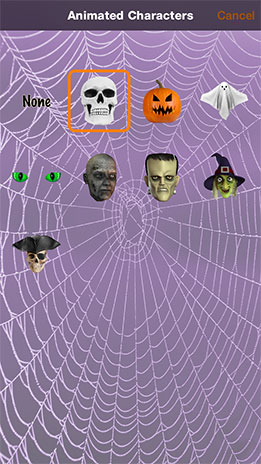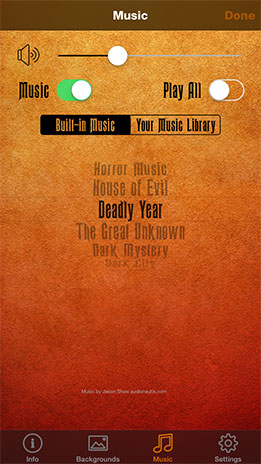 Testimonials from the iTunes App store:
"An awesome app that allows everyone who loves Halloween to keep track of Halloween throughout the whole year." - Buycert
"I love Halloween and this app is a great way to keep the spirit year round!!" - NYD16
"Really like the music loops-very nice...Fun app. I use it everyday." - Myrlyn25
"The ability to customize this app makes one's countdown experience entirely unique. This app bleeds nostalgia. Love it." - thesoulcages7
"I really like this app. It has everything I love" - my5brats
"This is great, I love this app (stays on my device the whole year)" - NestEggingChicken
"Love it, awesome the way you can customize it any way you want" - Jenny
"Helps a ton and I love how nice and fast the email responses are! Best ever! Get all countdown apps by these guys." - Mr. Spartan